Do you find siding products looking inferior? Over the time, they wear out and compromise your home exterior to a greater extent. So, you should consider James Hardie Fiber Cement Siding installation in Atlanta GA, especially if you want long lasting and enormous protection for your dwelling. It's considered as the depending siding that stands the test of time and the external elements.
James Hardie siding outperforms other siding options due to its strong makeup. This siding is able to endure weather conditions round the clock. From the summer sun to gusty fall winds and frozen winter temperatures, it takes beating throughout the year.
However, wood siding may appear beautiful; but has a drawback i.e. upkeep. But James Hardie siding requires less maintenance and is well-known for sturdiness which comes from the combination of cement, sand and cellulose fibers. All of them are combined to form an enduring siding product which is hard to beat.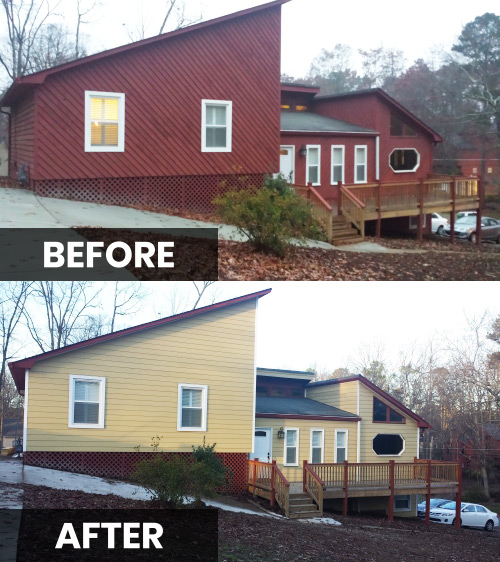 Why Do You Consider James Hardie Siding Installation?
1. Overall Beauty and Aesthetics
This siding perfectly complements the overall look of your home. Whether you want traditional, farmhouse or craftsman, contemporary look, James Hardie siding has the perfect match for your dwelling.
2. Enormous Fire Protection
Wood siding fuels the fires which melt the vinyl siding much faster. But James Hardie siding is resistant to flames and heat damage. It won't contribute to fuel fires. If you really want to keep your home safe and secure, you should ask your roofing company in Atlanta to install James Hardie siding. It's a non combustible siding product which ensures safety of your family and enormous protection for your home.
3. Engineered for Climate Conditions
James Hardie siding is made specifically to match your climate conditions. It offers lasting effects on different climate conditions. HZ5® products resist wetness below freezing weather whereas HZ10® products ensure protection of homes against heat, humidity and harsh glare of the sun.
4. Immense Durability
When you choose James Hardie products for siding installation in Atlanta GA, you will take advantage of its long lasting value from your investment. Harsh weather conditions test the durability of siding products year round. James Hardie siding is highly resistant against severe weather conditions like hail, excessive rain, droughts, snow and ice storms.
This siding ensures protection against moisture damage, rotting and warping. This means, the siding endures changing seasons with ease and remains intact during extreme temperatures. Besides, this siding remains unaffected by the hail and wind blow debris. You can get peace of mind knowing that your home is protected very well.
5. Less Maintenance
When you consider James Hardie siding installation in Atlanta GA, all you need to do is to clean it a couple of times in a year. You won't need to get tempted to power washing the siding. If you have a high pressure power washer, it could damage your siding.
Use a regular backyard garden hose and a nonmetal, soft or medium bristle brush to remove dirt and grime from your siding and trim effectively. You just rinse it and your siding will look amazing for sure.
Bottom Line –
Are you looking for the best roofing company in Atlanta? If yes, then you should look no further than ECG Contractors. For more details, please contact us today at (770)-809-1017.