Siding Replacement Atlanta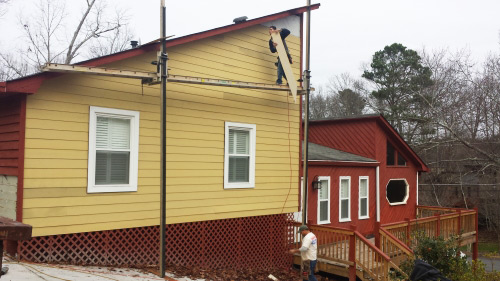 Siding Installation Atlanta – Exterior siding, apart from being just a cosmetic feature for your home, is more of a protection shield that protects it from wind, moisture, bacteria, and other unwanted elements. It also protects your internal roof & walls from mold. So if your home's siding has wrecked or needs a replacement, ECG will install it for just a few bucks.
If you are compromising with a damaged siding, it's wise to get a new siding installed without any delay. That way your home's value would also increase. ECG strives to make homeowners happy & satisfied by providing them a life-long permanent solution for their homes.
James Hardie Fiber Cement Siding is a highly-acclaimed range of fiber cement siding. They represent the true outer beauty of homes with a solid wood quality that is highly-durable and resistant to fire. These sidings also protect your home from termites and give you a 30-year warranty that other normal sidings cannot compete with.
Together with having stock James Hardie Siding, we also supply Color Plus edition. This edition has a James Hardie Sidings available in a big range of colors that go best with your taste. Each of those James Hardie Sidings has a smooth baked-on finish that has a 15-year warranty of NO CRACKING, CHIPPING, or PEELING.
We also offer a wide range of siding products other than the James Hardie line, including fiber cement siding, vinyl siding, and composite siding which are available in different unique styles & colors. ECG has also got horizontal lap siding line of products that are made up of different materials including cement, vinyl, cedar, and wood. So call us today to choose your siding and get it installed right away as per your house's shape & design.