Roof Replacement Atlanta GA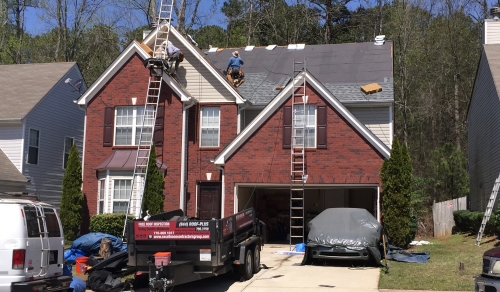 Roofing Companies in Atlanta: Having a tough time deciding whether you want a new roof replacement or a quick roof repair? Ask these questions from yourself:
If your answer to all of the above questions is "YES", you certainly need a new roof. A quick roof repair might do the trick but it certainly won't last too long. And yet it would cost you pretty heavy – almost double if you compare it with a new roof. Just
call (770)-809-1017
and our roof repairing experts will help you determine if you need a quick repair or a brand-new roof installation.
A new roof would not only protect your home from roof leaks, instead it would also increase your home's value. Right from the beginning, ECG has been providing top-quality roofing installations in Atlanta. From asphalt shingles, standard 3-tab shingles, tile roofing, natural slate, GAF, Atlas products, solar reflective shingles, CertainTeed, to any material you require for the new roof, we will install it or replace it with the old one!