Looking for roof replacement in Atlanta? ECG Contractors welcomes you.
Get your roof replaced by ECG Contractors, the very trusted roofing company. ECG Contractors is known as the best option when it comes to roofing replacement in Atlanta. We are just a phone call away. All you need to do is dial ECG Contractors and our professionals will reach out to you quickly to fix your faulty or damaged roof. If you are worried about your roofs then do not ignore any issue with your roof just call us. It is always a wise decision to take action before any risk comes. Ignoring a faulty roof is never a good decision. Therefore, we advise calling a professional roofing company as soon as you see the first sign.
A roof is a very important part of your building. It protects homes along with increasing their value. Therefore, it is very important to keep the roof in proper condition all time. Don't worry ECG Contracts caught you. We promise first-class roofing replacement. Our roofing service is very dependable. We have always been consistent in our services; we maintain our quality. ECG Contractors is a very professional roofing company. We use top-quality materials, ensuring our customers receive roofing that is strong and long-lasting. We are a very popular roofing contractor in Atlanta.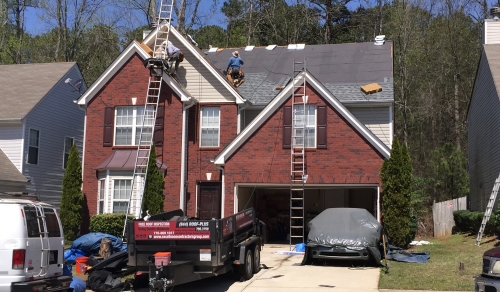 Roof Replacement in Atlanta GA: Your search for an experienced and reliable roofing company in Atlanta has brought you to the renowned roofing company. ECG Contractors has served for years and continues to serve the best quality. Don't worry ECG Contractors will be with you throughout the replacement process. You will have a very right experience with us. You can get a free quote from us. ECG Contractors always prioritize customer satisfaction and strive to exceed customers' expectations. You can fully rely on us.
When does your roof need a replacement?
• If your roof has been damaged due to weather conditions
• If your roof is old
• If you are selling your home in the coming years
These are some of the reasons that will require a professional roof replacement. Our solutions are highly reliable. ECG Contractors is known to deliver the best roofing solutions in Atlanta.
Are you worried about which roofing service should you get for your roof? Don't be. Our expert team will help you, they will let you know whether your roofing needs a repair or a re-roofing.
Take a look at our roofing works to get an idea about our exemplary roofing services.
We have experience in handling all types of roofing services. We promise to reach your expectations. For quality roofing services in Atlanta GA choose no other than us, 'ECG Contractors'.
Get in touch with ECG Contractors today. We are here to serve!